Today, there is still much confusion. In fact, we fight it every day. The terms "modular home" and "manufactured home" are used interchangeably by many people today. Home buyers, as well as industry professionals such as Realtors, Home Inspectors, and even building code officials, don't know the difference. As an industry, we haven't done ourselves any favors. They both start with "m" so they are easily confused. While they are both factory built cousins, there are key differences that make them two completely different types of housing. Let's compare the two. 
What Is A Manufactured Home?
Manufactured homes are constructed with a permanent chassis designed for over-the-road transportation and are delivered to the home site in one or more sections according to the National Manufactured Home Construction and Safety Standards Act of 1976 enforced by the Department of Housing and Urban Development (HUD). This is why they are also called HUD-Code homes. Prior to this act, the common term for this form of housing was a mobile home (or trailer). 
HUD regulates the home's design and construction, strength and durability, transportability, fire resistance, energy efficiency and quality control. It also sets tough performance standards for heating, plumbing, air-conditioning, thermal and electrical systems. 
Manufactured homes historically have been popular in rural areas on private land with minimal land use restrictions or in land-lease communities. However, today many high cost-of-living areas are finding this alternative to be an acceptable form of affordable housing. 
What is a Modular Home?
A modular home is built in accordance with the Florida State Building Code, the same building codes that govern a traditional site-built home.Modular homes have many advantages and can be constructed on any residential town lot that is not deed restricted.  Modular homes qualify for the same conventional mortgage loans and insurance rates as site built homes.
Since modular homes are constructed in a factory and transported to the site, up to 15% more lumber is used in construction than a site-built home; thus, adding strength to the structure of the home.
A modular home is built in a factory setting in a climate controlled environment away from the harmful elements that traditional "site built" homes have to endure. Modular Homes are built to the same building codes as site built homes and sometime even exceed them in many areas. The majority of the home construction (roughly 90%) is complete when the home leaves the factory. A small percentage is finished on site which may include – grading, utility connections, garages, driveways, porches ect.
There is Modular Construction…. But Not Modular Homes?
Modular home construction is based on the same codes as a site-built home. These include the various building codes set forth by local and state requirements in which the home will be located, such as the National Electrical Code (NEC) and the International Residential Code (IRC). The modular home is transported on a carrier; the home is then taken off of the carrier and transferred onto a foundation. 
A modular home is typically very customizable and built to exacting tolerances, which make them very energy efficient. These homes are virtually indistinguishable from traditional onsite construction of custom homes. 
How Can I tell the difference between Manufactured and Modular Homes?
The tell-tale sign in the past has been the fact that a manufactured home is required to be constructed with a permanent chassis. The chassis, or frame, was designed for over-the-road transportation of the manufactured home but it also gives the home structural strength and becomes an integral part of the installation of the home on a site.  
Several years ago, many of the manufactured home manufacturers attempted to grow their market share and created a way to provide homes that met the IRC but used a metal chassis or frame as an integral part of the construction of the home. Technically, it was modular in design and built to the local building code but had a metal frame. This confused the industry and homebuyers even more. In many states, this type of construction has been banned.  
Most of the time, a manufactured home isn't placed on a permanent foundation. It is placed on a block pier foundation which is more economical. A label is typically placed in most manufactured homes under the sink or near the electric panel box that states the home was built to the HUD building code. There will also be a metal label affixed to the exterior of each section of the manufactured home. 
A subtle difference that may or may not help identify a home built to HUD code is that in a kitchen there may only be two or three outlets. Building code today states that outlets on a kitchen counter must be located every two feet. If a home was built using modular construction, you will see the outlets placed appropriately. 
If the home was built using modular construction, there will be labels attached to the home under the kitchen sink in most instances. These labels will tell you the state code for which the home was built to conform. 
Drawing a Bright Line
When it comes to interpreting Restrictive Covenants and Deed Restrictions the confusion between the manufactured homes and a home built using modular construction can be even more confusing. 
Communities generally have no restrictions against traditional, site-built homes

 and homes built using modular construction

. Many housing developments do set minimum size requirements and stipulate you must build a house that conforms to published 

restricted covenants

 or be approved by an architectural review committee.

 

Most developments allow modular homes. Some do not, but, in those cases, the restrictions seem to have been imposed because of ongoing confusion about the differences between modular homes and manufactured homes.

 

Restrictive covenants and deed restrictions often exclude manufactured homes.

 
It is important to make sure that building code officials, zoning officials, and architectural review committees understand the distinct differences between modular and manufactured homes. 
 Modular Means More
While we still fight many preconceived notions of what modular construction is or isn't, we are winning! Setting expectations for a different process of construction is vital. Modular has been quietly becoming a preferred way to build for home buyers and for many contractors. Marriott, Hilton, and many other hospitality companies have discovered what modular construction can do for them, and they are exploiting the opportunity. 
Custom modular home construction is now seeing that same growth. The internet is a great place to research the advantages of modular construction for new homes. With rising costs, the loss of construction labor, and increasing regulations, building a new custom home affordable is more difficult than ever before. Because of the efficiency of the building process, you can get the superior quality of modular construction at no extra cost! You can expect more from your home when it is built using modular construction. 
A Real Time Saver
Among the most popular benefits of working with Citrus / Meadowood Homes is the quick turnaround between the initial consultation and home occupancy. Our custom modular homes are built in a fraction of the time a comparable custom site-built home is constructed. You not only can be in your home faster, but also consider that time savings, means more money savings during construction. The quicker turnaround time absolutely saves significant interest payments and labor costs during the construction phase of the project. Factory modular build homes can be constructed in a much shorter time frame than a conventional site built home.  After the engineering plans have been approved and the home is scheduled for production it only takes a couple of weeks for the home to be ready to deliver to the site location.  Simultaneously, while the engineering and the home construction is taking place, the developer or home owner can be doing the site preparations. In comparison a conventional site built home could not begin until the site preparation is completed, adding to the time frame of completion.  Additionally, a modular home is inspected numerous times during the factory production stage and is 90% complete when it arrives on site, reducing time delays for onsite inspections.
Design Flexibility
All our Modular Homes are designed with the use of CAD (Computer Aided Design) and really take it to a whole new level. This means we can pretty much go "outside the box" and make your home truly unique. Not only can the customization's be designed through computer aided software but the program also communicates those designs to the machinery in the manufacturing facility, ensuring your custom modular home is built as precisely as possible. These precise designs translate into more efficiency and money savings for years to come. Most all of the floorplans you see on this website can be made as Modular Homes.
Cost Effectiveness / Financing
Because our homes are constructed in less time, the costs are controlled more efficiently and kept at a minimum which enables us to offer our homes at a fraction of the cost of traditional site built homes. With a wide variety of plans and options to choose from, you are sure to find a home that fits your needs and budget. Our modular homes qualify for the same financing and loan programs as site built homes and are considered the same as "site built" by lenders. Affordable Insurance Because of new regulations on homes currently in flood prone areas, insurance has become more expensive and even unaffordable / unavailable for many people. Being that our foundations are typically designed so that your home exceeds these height requirements, insurance is more available and affordable for our customers. On average a modular home will cost approximately 25% to 30% less than a conventional site built home.  These cost savings stem from the advantages of factory built housing.  Materials are purchased in bulk, rather than per home, thus the material cost run less.  When a modular home is build inside a factory using assembly line construction methods there are no weather delays and this greatly reduces labor cost
Controlled Environment:
A modular home is constructed inside a factory controlled environment.  The home and building materials are safely protected inside, not subject to rain and wind.   Throughout the years site builders have struggled with effects of mother-nature; moisture saturated lumber, drywall, insulation, and doors.  This can result in damaged building products such as warped lumber and mold and moisture issues.
Resale Value:
Modular homes increase in value over time the same as a traditional site built home because they are viewed as a single family residential structure by county municipality's as well as appraisers.. Once they are completed it hard to tell the difference between a conventionally built home and a modular home.
On Frame Modular Home with Concrete Filled Piers
This Beautiful Triple Section Home is Installed on a engineered footer system which has been laser leveled and then the piers are poured solid with concrete with rebar reinforcements. The Frame is then Bolted to the Foundation. This foundation system is very strong and will insure your home is as safe and secure as possible!
ON FRAME MODULAR HOME GALLERY
OFF FRAME MODULAR HOME GALLERY
POPULAR MODULAR HOME FLOOR PLANS
Mark Malanowicz
2021-11-19T15:15:40-05:00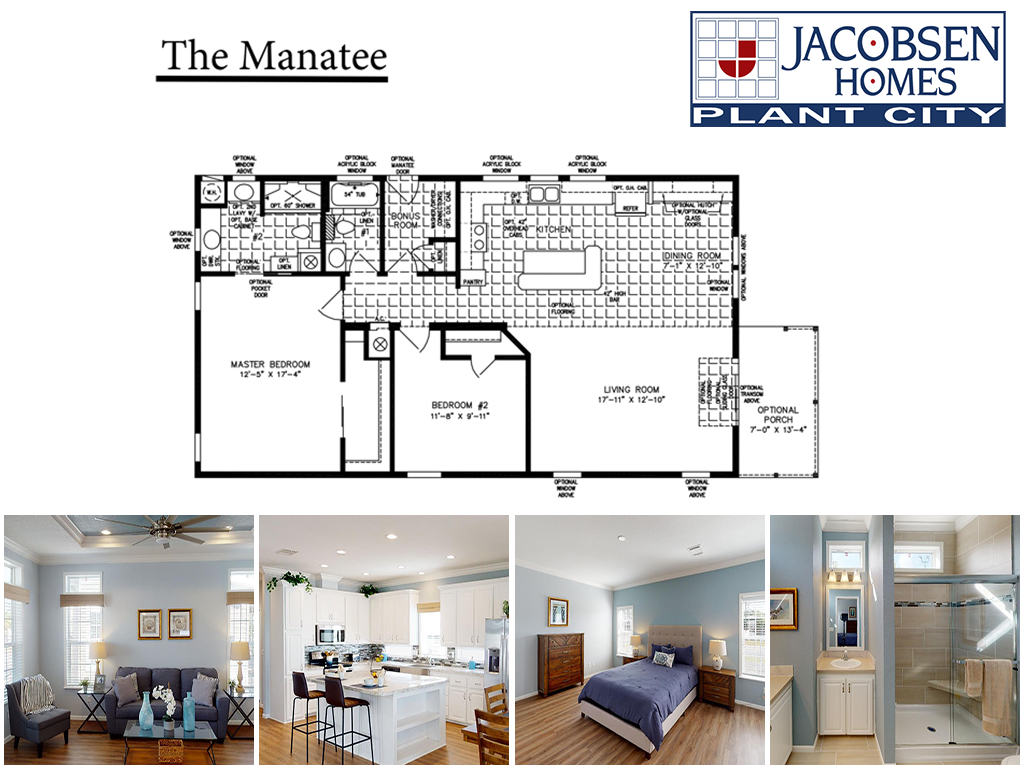 1280 SQ. FT. | 2 BEDROOM | 2 BATH